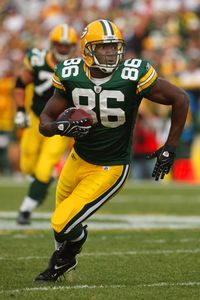 This is the fifth installment of our Camp Countdown Questions series. Each day leading up to July 31st, we'll be posing a crucial question the Pack need to answer in training camp.
If three's company, what does that make four? That's the question Ted Thompson will have to answer as he looks at the Packers' current TE situation. As we've discussed previously, the
addition of Andrew Quarless
to a group that already features Jermichael Finley, Donald Lee, and Spencer Havner means that one of the above mentioned players could be out of a job in the near future.
Of the four, Finley appears to be the only lock to make the team. So what do the rest need to do in order to increase their chances of making the cut?
As a rookie with some promising upside, it looks like Quarless' chances to make the team are second best. He's struggled in OTA's thus far, but will have a solid opportunity to prove himself in camp. He doesn't need to wow the coaches, but he needs to make them feel like keeping him around will be an investment that could pay-off later.
That leaves Lee and Havner. If either of these two are searching for a possible blueprint to follow, they should look no further than what FBs John Kuhn and Korey Hall did last year. After the Packers selected Quinn Johnson in the 2009 NFL Draft, Kuhn and Hall had their backs to the wall. It appeared almost certain that one of them would be cut.
But both Kuhn and Hall stuck around, in large part due to their contributions on special teams. This type of versatility is what Lee and Havner should be aiming for as they attempt to beat each other out for that last roster spot.
Havner is certainly familiar with this type of role. Making plays on special teams is his bread and butter, and it allowed him to catch on with the Packers in the first place, well before he proved himself as a serviceable back-up. Lee, too, has a special teams pedigree. With his days as the starting TE apparently over, he doesn't seem to have problems with
changing his role
and helping the team out in whatever capacity he can.
Of course, as I talked about on Wednesday,
Johnson's own unpreparedness to take on a big role
played an important part in the Packers' decisions to retain both Kuhn and Hall. And in a lot of ways, that could be true for Havner and Lee this season. If Quarless proves completely incapable of even serving as third option, the Packers could opt to keep all four TEs or even cut Quarless outright.
But if I were either Lee or Havner, I wouldn't be counting on either of those possibilities. Anytime you have to depend on someone else screwing up, you haven't done enough for yourself. Lee and Havner's best bet is to follow the lead of Kuhn and Hall and make themselves as useful as possible.
In fact, though Havner and Lee are TEs and Hall and Kuhn are FBs, the futures of these four players could be very much entwined. People (myself included) often make the mistake of thinking that there is some set number of players you can keep at a certain position, as if it's written in stone somewhere. In reality, a 53 man roster is much more fluid than we often realize. Things aside from simple positional value must be taken into account. Forming solid special teams units is one of them. It's very likely that while Lee and Havner may be competing against each other as tight ends, they'll also be competing against Kuhn and Hall as special teams contributors.
At the same time, I feel Havner and Lee have an advantage, for the simple reason that TE is a more valuable position than FB. Yes, Ted Thompson would like to hold on to guys that can be special teams stalwarts, but he'd probably prefer to retain guys that can do other things as well. Green Bay will either hold on to 4 TEs or 3 FBs, but not both. I'm inclined to think the first option is more likely.
At the end of the day, the Packers are going to keep guys who can contribute in a number of ways.
If Donald Lee and Spencer Havner can prove to be useful players with a variety of "tools," it's very likely that the Packers retain both of them.
This is especially true if Andrew Quarless is only able to make a minimal impact. Judging by his comments in a recent article, Lee seems to have the right mentality:
"I've never been a selfish player. I've always put the team first. I just want to do whatever it takes to help the team win the game. If that's playing special teams, I'm going to be an impact guy on special teams this year if that's what I have to do...If they want me to block, you better believe that's what I'm going to get done. If they want me to catch touchdowns, I'm going to get that done as well. I'm just going to continue to work hard, do whatever they ask me to do with a smile on my face and with great effort."
Nice words, Donald. Now let's see how it plays out.
Make sure to check out all other installments of the Camp Countdown Questions series!