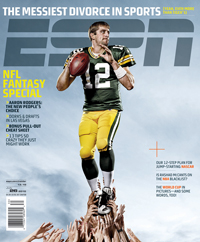 Well, with Bob and a yet-to-be-introduced-writer slated to handle the next two
Camp Countdown Questions
, I think I'll take it a little easy this weekend. With that in mind, I bring you the first of hopefully many installments of Friday's Final Thoughts.
Basically, I'll be using this feature as an opportunity to round-up and opine on the past week's happenings, share some interesting articles and content with you, and offer a look at what's to come. There's also a BIG question posed to you, the readers, so make sure to vote in the poll!
I imagine it will be be a little more exciting once the season gets under way, but until then it should still provide you with enough material to easily get through the last hour or so of work and on to the weekend.
Enjoy!
YES or NO
Super Bowl in London?
NO
. Regular season games, fine. But the biggest sporting event in America needs to remain just that...in America.
More credit for Ryan Grant?
YES
. He hasn't been spectacular, but Grant has been solid. In fact, since he assumed the starting job midway through the '07 season only Adrian Peterson has rushed for more yards.
Jordy Nelson as the for-sure #3 WR?
NO
. Simply put, I want the best guy for the job. Whether that's Jones or Jordy, fine, but let's not declare one the winner before camp's even begun!
Brandon Jackson's replaceable
?
YES.
I don't think it'll happen this year, but look for Starks to make a move on Jackson's position. He may be a good pass-blocker, but Jackson isn't much of a threat with the ball in his hands.
Childress doesn't know about Favre?
NO.
Absolute BS. There is no way the Vikings would have sat on their haunches and not gone after a QB this off-season if they didn't know what El Traitor was doing. He'll be back toward the end of training camp.
Finley challenging Revis?
MEH.
I'm all for a little swagger and bravado, but I mean this one doesn't even make any sense! Finley won't even be going against Revis! Nonetheless, it's good to see Jermichael's confident because the sky really is the limit for him.
If you haven't, you really should...
...consider purchasing the Maple Street Press Packers Annual
. 128 pages on nothing but the Packers and the upcoming 2010 season, written by some of the best bloggers out there.
...watch our piece on Brad "Chilly" Childress
. Simply put, it's really, really funny but not enough people have seen it.
...read this article on Donald Lee
. His time with the Pack could be drawing to a close, but he is definitely a high-character guy with a team-first mentality. You've won me over, Donald.
...
start following Packers players on Twitter
. I'm specifically giving a shout out to
rookie DE CJ Wilson
, because he responded to me!
...check out ESPN's feature story on Aaron Rodgers
. He's the cover boy of the July 26 edition and there's a great story on A-Rodg and the trials and tribulations he's faced on his way to the top.
...read up on the Packers' financial situation
. If you do, make sure to fill me in, because I'm still not really sure what's going on.
...listen to Cheesehead Radio.
Hosted by the web's most dedicated Packers bloggers, it's your source for interesting Packers analysis and banter every Thursday at 8 pm CST.
...get in a football state of mind by watching 2009 season highlights.
That link is 9+ minutes of team defensive highlights and this one features
Aaron Rodger's 4 TD performance against the Steelers
.
Upcoming
As training camp approaches (only 8 days!), the gang here at JonBob's will be doing our best to get you up to speed.
Camp Countdown Questions will continue
over the weekend and right up to July 31st, when football hell finally freezes over.
Green Bay's top two picks, OT Bryan Bulaga and DE Mike Neal,
are still unsigned
. That could all change in the coming week. In fact, Bulaga and his agent are in Titletown for the weekend.
With 24th overall pick Dez Bryant recently signing
, it's very likely that Bulaga could be the next to go.
The Packers organization
has purchased 28 acres around Lambeau Field
. Word on the street is that they're looking to build some multi-faceted commercial district in an effort to generate revenue they don't have to share with the league. Check out the
Green Bay Press-Gazette
on Sunday for the scoop.
On Thursday, July 29th, The Comish (aka Roger Goodell) will be in Green Bay to host an open forum Q&A session
with 120 lucky Packers fans. The event's at 7 pm, and if you have the opportunity to attend, you should. If not, you can catch it live on the NFL Network. They're saying "no topics will be off limits and no questions will be screened," but I can't imagine any intense grilling occurs. Nevertheless, it should be an interesting affair.
The BIG Question
Will Bulaga and/or Neal sign before camp?
Final Thought
Training camp is almost here, it's really almost here! Our days of football deprivation are almost at an end! Just one more week! There's really not much more I can say. This is the moment I've been waiting for since January 10th. It can't come soon enough! The road to Dallas and Super Bowl XLV starts on July 31st, and believe you me, I think the Packers are certainly capable of making it there. I guess we'll just have to wait and see.