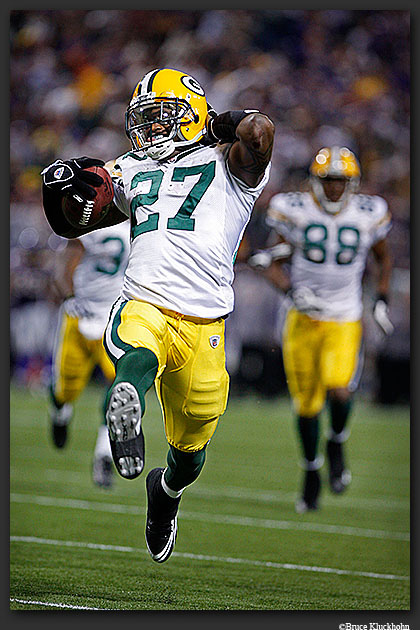 This is the seventh installment of our Camp Countdown Questions series. Each day leading up to July 31st, we'll be posing a crucial question the Pack need to answer in training camp.
Hello Packers faithful, David O'Brien Liedl here. I'm excited to get my blogging underway and hope you enjoy my insight. I look forward to reading your comments and continuing to share with the World of Packers.
I don't know about you guys, but I'm a big Star Wars fan. The story tells of a prophesy foretelling the coming of a great Jedi-knight who will bring balance to the force, one who will bolster the Jedi's and once and for all defeat the Darkside. Kwi gon Jinn is certain Anikin Skywalker is the chosen one despite his troubling mental instability and head-shaking remarks ("now this is pod racing!"). So Kwi gon and Obi wan Kenobi take little Ani ( thank you Jar-Jar Binks) to the Jedi Council, who is impressed of course. Anikin Sywalker possesses tremendous ability, but Yoda is not convinced. The little green man, in his infinite wisdom, sees Skywalker's troubles and forbids his training.
If I've lost you at this point, I do apologize. Allow me to make my comparison. The Packers are on the cusp of excellence, but are missing one or two key pieces needed to make a run to Dallas. I believe one of these pieces is the return game. Just imagine how deadly the Packers already dominant offense would be if they didn't always have to start
way back
in their own territory. There is no doubting
Blackmon's talent
, we all remember how phenomenal he was in 2008, but is he the One? There are those
Kwi gon Jinns
out there who seem to have fallen in love with the brief flash of talent Blackmon showed during the 2008 season. However, like the wise Yoda, I'm just not quite convinced.
During the 2007 and 2008 seasons, Blackmon definitely showed his ability returning punts, including an impressive
76 yarder.
I remember his three punt returns for touchdowns very well. Like all of you Green and Gold followers, I jumped up and down and yelled, "go baby, go!" all the way to the endzone, but I don't remember thinking "wow!"
Take a look for yourself (2 minute mark).
It's an impressive return, and came at just the right time, but there is nothing Devin Hester, Josh Cribbs, Dante Hall, or Reggie Bush about his return. He essentially makes one guy miss and then cuts back, that's it. Now I'm not trying to diminish the significance of those six points, but it's not good enough. Do you think teams gameplan around Will Blackmon? I think not. He's good, but not a fear factor.
I feel bad for hating on Blackmon, because I like the kid, I really do. I am excited to have him back for the 2010 season and really hope he can push the Pack over the top and onward to Dallas. I'm optimistic, but I have my doubts. My biggest concern is his health. Since arriving in Green Bay, Blackmon has been plagued by injuries. Not only did he end his
first two seasons
on the IR, but also spent the entire 2009 campaign there as well. In four NFL seasons, Will has only managed to stay healthy for one, 2008. Coincidentally, that was his most successful year with two punts returned for touchdowns. My point exactly. The kid is pretty good, maybe even the Chosen One, but his injury plagued NFL career is concerning.
Will Blackmon is a temporary fix. Why? Because even if he somehow remains healthy for a whole season, he doesn't possess that wow factor the Packers desperately need. I think it's about time TT dug into his well of draft picks and pulled out a phenomenal returner, because they are worth it! A guy like
Devin Hester
or Reggie Bush is a complete game changer, one the opposing team is scared even to kick the ball to. The Packers need a return man who can strike fear into the opposing coverage units and give them that game changing threat.
A healthy Will Blackmon will add an extra dimension to the Packers this season, but come next April the Packers' brass needs to look for Devin Hester's cousin.
Make sure to check out all other installments of the Camp Countdown Questions series!