This is the eighth installment of our Camp Countdown Questions series. Each day leading up to July 31st, we'll be posing a crucial question the Pack need to answer in training camp.
Al Harris
is a warrior. Everything about #31 is a testament to this, from
his aggressive, attacking style of play
to the
seamless collage of tattoos
that covers his body. His compelling journey through the ranks of professional football, from D-II prospect to nickel back to All-Pro, is proof of his resiliency and determination, as is the fact that he
not only survived an exploded spleen
, but was
back on the field in a matter of weeks
. It's not an exaggeration to say that Al Harris is one of the baddest mutha f#*&ers in the world,
right after this guy
(warning: adult language).
But unfortunately, it doesn't look like Al will be fully recovered
from an obliterated knee
in time for the beginning of the season.
Despite his best efforts
, it's most likely that Harris will end up on the PUP list (physically unable to perform), which will prevent him from participating in the Packers' first 6 games. One of the biggest concerns of the Packers this training camp is finding a corner back competent enough to fill the vacancy left by Harris.
I am, of course, not talking about the
immediate
vacancy left by Al, that is, the starting CB spot opposite Charles Woodson. Tramon Williams has that locked up. No, by shifting Williams to the starting lineup, Harris' absence leaves a big question mark at the crucial nickel back position (which has
nothing to do with these guys
).
Last year, following
Harris' season ending injury
, the nickel back was a position of weakness for the Packers. None of the reserves on the roster seemed competent in Williams' stead, and opposing QBs took notice (see
Roethilsberger, Ben
and
Warner, Kurt
). Indeed, while Green Bay's
run defense was the envy of the league over
, the Packers' pass defense became a liability, despite the presence of All-Stars Charles Woodson and Nick Collins roaming the secondary. Though the
Packers' problematic pass coverage
can certainly be attributed to other positional groups as well, the lack of any suitable depth at CB was one of the most compelling factors.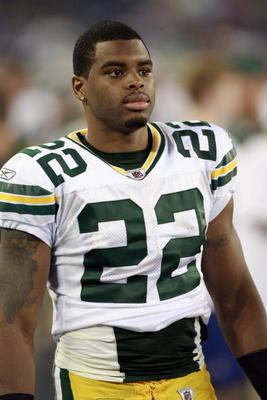 Unfortunately,Ted Thompson and Co. did very little to address this glaring deficiency, failing to select a single corner throughout the
seven rounds of the 2010 NFL Draft
. In essence, the Packers will be forced to figure out their corner back conundrum with the same group of players that proved inadequate last year.
Well, actually, that isn't entirely true.
Pat Lee
, a former 2nd round pick who spent all of last year on the IR, will be added to the mix. Lee's performance throughout his brief career with the Packers has been highly disappointing. He played sparingly his rookie year, hampered by a hamstring injury which eventually landed him on the IR late into the season. He followed up with an even worse sophomore campaign: The Packers determined Lee to be so inconsequential that they
relegated him to the IR
with a minor knee injury before the season had even begun. In fact, Lee's contributions to the Green and Gold thus far have been so non-existent that he wasn't even
included as member of the Packers in Madden 2011
.
Sadly enough, after Lee it doesn't get much better. We're all familiar with
Jarrett Bush
, the most despised man of the past decade to don the Packers uniform
and be despised whilst wearing it
(I feel like that clarification was highly necessary).
Seriously, fans love to hate this guy
. Year in and year out, the Packers faithful question why Bush is still on the roster, and why the heck Thompson
decided to match an offer sheet
to keep him in Titletown. This much is clear: Bush is not sticking around
because of his coverage abilities
.
So who else do the Packers have? Well, there is
Josh Bell
. What's that, you don't remember Bell? Maybe this will refresh your memory:
Still not clicking for you? Alright, you asked for it:
That's right, Bell's the guy who gave up that absurd, last-second, game-winning TD catch to Roethilsberger, Mike Wallace, and the Steelers. In all fairness, that was an amazingly thrown ball, absolute perfect placement...but you just can't give up a play like that when the game is on the line, especially from 19 yards out! Maybe the fact that we had
only signed Bell a couple weeks earlier
had something to do with his poor play, but for some reason, I don't think he's our answer. After all, he had the opportunity to start in Denver once Champ Bailey went down and if he'd been any good, they would've kept him.
Though they didn't draft any corners, the Packers do have rookie pick-up
Sam Shields
on the roster. But if you think Shields is the immediate answer at nickel back, well then
you must be taking crazy pills
. Seriously, Shields is raw as they come. If he sticks around this year, it will be because of his abilities as a gunner and kick coverage wiz. He's at least an entire season away from making any kind of contribution in the secondary.
Who does that leave left? Oh, of course,
Brandon Underwood
. In fact, a month ago Underwood was the odds on favorite to assume the nickel back role should Harris fail to return on time. Underwood played decently, albeit sparingly, as a rookie and followed his first season up with some stellar offseason improvement. His progress
prompted Mike McCarthy to say the following
:
I think Brandon Underwood would definitely be a candidate for most improved player from year one to year two so far from what I've seen. I think he's really matured in the weight room. He looks very good right now. I know we're only practicing in shorts and helmets, but I think Brandon Underwood is off to an outstanding spring so far. I've been very pleased with what he has shown on film.
Pretty excellent praise from the head coach. But, of course, Underwood had to go screw it all up by
utilizing the services of a pair of ladies of the nights
, who then decided to
play the "sexual assault card"
in an effort to make a quick buck. There's probably a good chance that this case will blow over or at least not result in jail time, but I'm still not confident that the Packers should rely on Underwood as their answer at nickel back.
There, that's it. Lee, Bush, Bell, Shields, and Underwood. That's essentially all the Packers have to work with in their search for a suitable #3 CB. You may be wondering about Will Blackmon, but
he moved to safety
this off-season. However, as loyal reader PackersRS pointed out, Dom Capers has used safeties to play a pseudo-nickel back in the past. It may be something he could be planning on doing with rookie Morgan Burnett. An intriguing possibility, to be sure, but until I hear that this is something actually in development, I'll have to assume it isn't an option.
So where does that leave us? Well, here's what I can say.
No matter who steps up in Harris' absence, it's hard to imagine that they'll be good enough to fix the pass defense woes that plagued the Packers last season.
Simply put, Ted Thompson has failed to add needed talent to the CB corps. At this point, the Packers should be hoping that Al Harris can make a miraculous recovery or that opposing teams choose not to run multi-WR sets. Because if they do, we can look for repeats of the defensive debacles in Pittsburgh and Arizona.
Make sure to check out all other installments of the Camp Countdown Questions series!