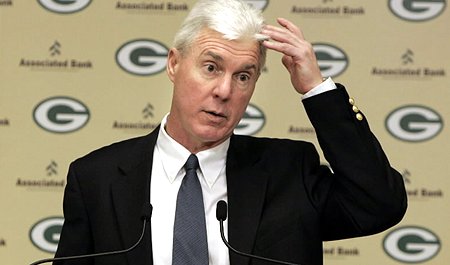 Teddy's a little frazzled after his busy weekend.
Following the madness associated with Cutdown Weekend, the Packers 2011 roster
appears to be solidified
- at least for the time being. No doubt it will change as we progress through the season, with the inevitability of injuries and other areas of weakness that may need to be addressed.
What follows is my rather random assessment of how things went down this past Saturday and Sunday-- and how the Packers are situated on the cusp of the 2011 season.
What a difference a year makes
Some GMs like to follow a similar blueprint from one year to the next. Not Ted Thompson. The Architect (if that's not an exceptional moniker, I don't know what is) has proven time and time again that he is primarily concerned with keeping good football players, not filling positional quotas. After keeping 3 FBs for the previous two seasons, he opted to only roll with John Kuhn. Likewise, there are only 8 offensive linemen on the roster this year, down from 10 in 2010. The extra space has allowed TT to hang on to an
unprecedented 5 TEs
, and the number of linebackers on the team is 10, up 2 from a year ago.
Rookies Jamarai Lattimore and
Vic So'oto are two of the ten
linebackers on the Packers' roster.
(This picture is somewhat homoerotic)
In with the new...
The Packers are the
second youngest team
in the NFL this season.
Keeping 10 rookies
on the roster certainly contributes to that ranking. They say a dynasty is impossible to build in the modern era, but with the way TT recycles talent while keeping his core intact, the Packers could prove the naysayers wrong. But let's make it two in a row before we get too caught up on the "D" word.
Thompson's disdain for veteran free agents continues
Scanning the roster, I don't see a single player who was either not associated with the team last year or is not a rookie. Not a single one. I'm not complaining either.
We kept West and Gurley-- for now
My love affair with Chastin West
is well-documented
, so I was somewhat ecstatic when I found out he had survived waivers and made it back to the Packers' practice squad. In fact, Harrell and Tori Gurley had also made it through. This was too good to be true. However, my glee was soon tempered. Being on the practice squad guarantees nothing, as any team can sign a practice squad player to their 53 man roster at the drop of a hat. In fact, in recent seasons the Packers have had three players poached: Breno Giacomini, Jamon Meredith, and Brian Brohm. Granted, all three of these players were draft picks, and in the case of Brohm and Meredith, were pretty touted coming out of college. Still, it's a very real possibility that someone comes calling and steals one of our talented young players away. If I had to guess, I'd say West, given his level of polish, is the most "at risk."
Sorry Graham! Kareem and I tried!
I missed the mark on Harrell
I
guaranteed that Graham Harrell
would make the 53-man roster, and I
wasn't the only one
. He didn't. The Packers opted to roll with only 2 QBs for the second straight year, while Harrell was relegated to the practice squad yet again. Simply put, although the Packers may believe that Harrell could one day be a capable second-stringer, they either don't think he'll be poached off the practice squad or don't think his potential is irreplaceable. Probably both.
Going with what they've got on the D-line
We all knew Cullen Jenkins would likely be departing in free agency, so many of us scratched our heads when the Pack didn't place much emphasis on acquiring new blood for the D-line this offseason. We had a trio of solid big men, but the guys behind them were cause for some concern: Mike Neal was returning from a season ending injury, CJ Wilson didn't seem to be anything special, and Jarius Wynn had already been once-cut before the Packers decided to bring him back midseason. The only notable addition was 6th round pick Lawrence Guy, who was plagued by concussion issues during camp and will spend the year on IR. However, both Wynn and Wilson have looked much improved thus far, giving hope that the Packers' depth at the D-line is not as bad as some feared. Now if we could only get Neal healthy...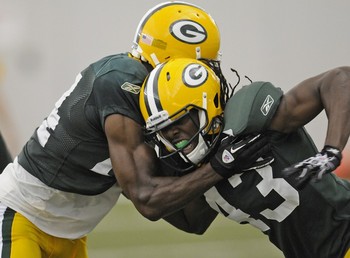 Rookie safety MD Jennings made the team in large part to
his excellent play on special teams.
Special teams got the special treatment
With very few holes on either side of the ball, the Packers were able to focus on upgrading their special teams, a unit that finished 2010
ranked 29th
and has been the weak link of the Green and Gold for some time now. Obviously Randall Cobb will provide a big boost to the return game, but the upgrade to the unit goes far beyond that. First and foremost, the Packers kept a combined 15 TEs and LBs, players whose combination of moderate athleticism and size will allow them to contribute to a variety of ST units. Guys who excelled at special teams, like Jarrett Bush, Tom Crabtree, and rookies MD Jennings and Ryan Taylor, were kept on the team at the expense of those
who did not
. With all the love special teams has gotten, ST coach Shawn Slocum will have absolutely no excuses if his unit finishes at the bottom of the barrel once again.
Close, but not perfect
From top to bottom, the Packers roster is probably the deepest in the league. Our starters are set, and, in my estimation, we have no question marks regarding any of the depth backing them up-- except in one area. The Packers only kept 8 offensive linemen, and it wasn't because TT was feeling risque; it's because the talent simply wasn't there. Nick McDonald, considered a promising rookie just a year ago, showed nothing this preseason and is now on the Patriot's practice squad. 5th round pick Caleb Schlauderaff was traded away to the Jets after he didn't show enough in camp (plus his name is too hard to spell). The guys left to back up our starters don't inspire much confidence either. First round pick Derek Sherrod may very well be the LT of the future, but his play thus far would leave me expecting the worst if he had to fill in for Chad Clifton anytime soon. Marshall Newhouse has had a Jekyll/Hyde showing this preseason, looking great at times and atrocious at others. And expectations for Evan Deitrich-Smith can't be too high, considering that the Packers opted to cut him last year at this time. Obviously it'd be great if our starters could just just stay healthy, but look for The Architect to address his O-line depth in the near future.