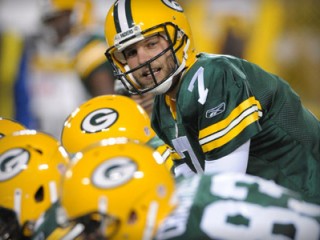 At the start of the 2010 regular season, the Packers elected to carry only two quarterbacks, Aaron Rodgers and Matt Flynn, on their 53 man roster. Graham Harrell, a former Texas Tech standout who'd had trouble catching on in the NFL, was stashed on the practice squad for most of the season.
As the date for final cuts approaches, there's been some speculation within the Packers community that Ted Thompson and Co. will follow the same approach they took last year, and go into the regular season with only Rodgers and Flynn on the roster, hoping to land Harrell on the practice squad yet again. After all, the reasoning goes, what's changed from last year to the present to warrant keeping 3 QBs on the 53 man roster? If anything, the emergence of Flynn as a dependable, durable backup would give us even more reason to use that extra roster spot at a different position. Harrell can spend another year on the practice squad.
I'm not sure how many people out there think this way, but I couldn't disagree more strongly. In fact, I'll go as far as to bet my firstborn son that Graham Harrell makes the opening day roster (it's easy to gamble with your kids when they don't exist). But my convictions are pretty absolute. Here's the logic to back it up.
First of all, Matt Flynn will
not
be on the Packers roster at this time next year. Since his
fine performance against New England
, talk around the league has been that he has the potential to be a starting quarterback in this league. His impressive play this preseason has only
further legitimized such talk
. And with his contract expiring at the end of this season, teams with unsettled quarterback situations (Seattle, Cincinnati, and Miami, to name a few) will come calling to see if Flynn can be the next Schaub or Hasselbeck. He's a competitive guy, and probably doesn't want to hold a clip board in Green Bay behind Rodgers for the next decade. Come 2012, he's as good as gone.
So, what have the Packers done to prepare for Flynn's inevitable departure? Well, in terms of personnel moves, nothing. They didn't add a single QB to the roster this offseason. Not a free agent, not a draft pick, not even an undrafted rookie--nada. Still just Rodgers, Flynn, and Harrell. Hmm...I wonder who they're counting on to back-up Rodgers next year after Flynn departs?
With Harrell as the obvious number-two-to-be, attempting to sneak him on the practice squad is a risk the Packers will not be willing to take. His strong performance in training camp and last week's preseason game coupled with the fact that the Packers are renowned around the league for developing QBs make it likely that another team would claim him off waivers if given the chance. Keeping an extra DB or WR on the roster is not worth gambling with the only option for next year's back-up QB with any familiarity with the Packers' system.
Then, of course, there's the whole thing about McCarthy actually
preferring to keep three quarterbacks
:
I like keeping the third quarterback, and frankly it's risky the way we've gone about it. If you asked me my druthers, if I could keep three quarterbacks, I would always keep three, and I would have a fourth on developmental. It's the most important position in football. ... When it was Brett [Favre] and Aaron you never blinked. But Matt [Flynn] has also now shown he is durable and a tough guy, so he's also given us that flexibility to go and carry the extra DB. But if you're asking me to assess it from a risk standpoint, I would definitely lean toward keeping a third.
Write it in ink, or better yet, permanent marker: Graham Harrell will make the roster.