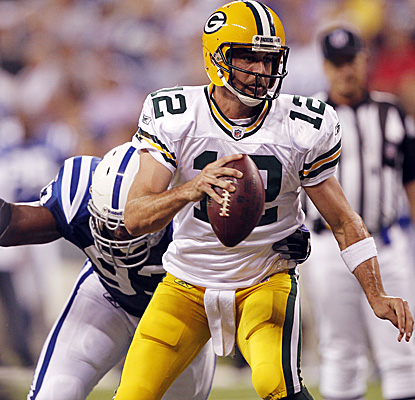 Well, not all of us could attend the Packers game in Indianapolis (I'm looking at you, Bob). In fact, some of us actually worked during the contest and only were able to catch the first quarter during our meal break. So no fourth quarter excitement for us (me).
Nonetheless, I've still been able to piece together a pretty solid secondary grasp of what transpired Friday night, so I figured I'd throw together some hodge-podge analysis. I mean, come on, when have I ever let a loose grasp of the facts stand in the way of me spouting off my opinions?
Risers and Sinkers
(Bubble Battle Edition)
It's the preseason, and jobs are on the line. Here's a quick look at who bolstered their chances of making the roster, and who may be looking for a new NFL team in a couple of weeks.
▲

Vic So'oto- strong and explosive, this undrafted OLB is a threat against the run and the pass.
▲
Ryan Taylor- definitely looks like the better of the two rookie TEs at this point
▼

Jarrett Bush- I think he still has a roster spot, but poor coverage skills could lose him dime job.
▲
Graham Harrell

- he was apparently awful early on, but his late game heroics will help his cause.
▼
Pat Lee- no way he makes the team. After Justin Harrell, probably Ted Thompson's worst miss.
▲
Jamari Lattimore
- another undrafted OLB who made his mark, though he might need time on the practice squad.
▼
Anthony Levine- hard to blame a guy with a concussion for not playing, but Levine needs to show something-- fast.
▲
DJ Smith- rookie is always around the ball, and may now be top back-up ILB.
▼
Rickey Elmore- college DE is clearly not a 3-4 OLB, and has been outplayed by So'oto and Lattimore.
▲
Alex Green- believe it or not, rookie's 9 yard run was Green Bay's rushing highlight of the night.
Takeaways
For anyone who thought Rodgers might hit a post-Super Bowl slump, watch the highlights. His TD to Finley and one-legged rifle to Driver were vintage.
Speaking of Rodgers, I heard he was wearing a Brewers hat during an interview (14-year old brother with the intel, so possibly suspect). It's a great time to be a fan of Wisconsin sports (Badgers, anyone?).
The stat line doesn't really indicate that Chastin West had the breakthrough performance I was anticipating, but there's more to it than meets the eye. He had a 20-yard scoring strike from Rodgers nullified by a holding penalty and he was also heavily involved in special teams. As I've been saying all along, it'll be hard for the Packers to cut him.
The guys at CheeseheadTV noted that James Starks was the Packers third-down back on Friday. He didn't disappoint on Friday, catching 5 balls for 38 yards. Everyone was so obsessed with talking about rookie Alex Green's potential to land this gig, we forgot about the guy who all along had the most natural receiving ability. In fact, this is the role that I anticipated Starks filling when we drafted him over a year ago.
Everyone's making a huge deal of the offensive line's struggles. Call me if it happens in the regular season. We seem to go through this same "crisis," specifically regarding Clifton, every preseason (okay, maybe it was actually a crisis in 2009). My bet is that once the games start counting, Clifton and the rest of the unit will be ready to go.
The Packers' no-huddle approach has already been talked to death, so I'll just say this: if it scores TDs, who cares about TOP? [that's "time of possesion"]
14 Packers had at least one catch in the contest. That number definitely won't be as high in the regular season, but it is somewhat of an indication that this team is loaded with talent at the play-making positions.