Cam Newton
Here it is, folks. My official mock draft. Enjoy:



1.
Carolina Panthers
: Cam Newton, QB Auburn
2. Denver Broncos
:
Marcell Dareus, DT Alabama
With the arrival of new head coach John Fox, the Broncos will be switching to a 4-3 defense and need a serious upgrade at D-line. As the best DT in the draft, Dareus makes the most sense here.

3.
Buffalo Bills
:
Blaine Gabbert, QB Missouri
The Bills have a lot of needs and I could see them going with Von Miller or Patrick Peterson here, but I think they go with Gabbert.

4. Cincinnati Bengals:
A.J. Green, WR Georgia
Green is a phenomenal talent and fits a glaring need with the futures of Ochocinco and T.O. in Cincinnati uncertain.

Von Miller
5. Arizona Cardinals:

Von Miller, DE/OLB Texas A&M


Easy decision here. With no top rated QB left on the board, Arizona can focus on adding a lethal pass rusher.

6. Cleveland Browns:
Robert Quinn, DE North Carolina
If the Bengals don't end up nabbing A.J. Green at 4, he shouldn't get past Cleveland at 6. The Browns could take Julio Jones, but I think they like Quinn better.

7. San Francisco 49ers:
Patrick Peterson, CB LSU
This seems to be the trendy spot to put Peterson. We'll see if he lasts this long.
8. Tennessee Titans:
Nick Fairley, DT Auburn
No-brainer here if the draft falls like this.

9. Dallas Cowboys:
Tyron Smith, OT USC
The Cowboys seem to be in love with Smith and don't want to see Romo's collarbone snapped in half again this year.

10. Washington Redskins:
Julio Jones, WR Alabama
Washington has a lot of options here. I'm giving them Jones here, but it wouldn't surprise me if they went defensive line.

Prince Amukamara
11 .Houston Texans:
Prince Amukamara, CB Nebraska
Houston's secondary is awful and Amukamara could be the answer here. Don't rule out a trade up for Patrick Peterson though.

12. Minnesota Vikings:
Cameron Jordan, DE California
That D-line in Minnesota is getting old and Ray Edwards is probably (hopefully) leaving via free agency. Whenever that may be.

13. Detroit Lions:
Anthony Castonzo, OT Boston College
Gotta protect Matthew Stafford better. If he stays healthy, the Lions might make some noise this year.
14. St. Louis Rams:
Da'Quan Bowers, DE Clemson
Microfracture surgery rumors have dropped Bowers out of the top 10, but I think the Rams take a chance on Bowers' potential.
15. Miami Dolphins:
Mike Pouncey, C/G Florida
Miami's interior line is less than stellar and Pouncey gives the Dolphins a lot of flexibility. Don't think Mark Ingram is their guy here.

Ryan Kerrigan
16. Jacksonville Jaguars:
Ryan Kerrigan, DE Purdue
High-motor, physical guy for a defense that got pushed around last year, especially down the stretch.
17. New England Patriots: J.J. Watt, DE Wisconsin
Watt has ideal size for a 3-4 DE and would be a good fit for the Pats who are still trying to replace Richard Seymour.

18. San Diego Chargers:
Aldon Smith, DE/OLB Missouri
I think it's either a defensive lineman or an OLB for San Diego. Larry English was a major disappoint last year and the Chargers hope Smith can pick up the slack.

19. New York Giants:
Gabe Carimi, OT Wisconsin
Look for the Giants to upgrade their offensive line here. Carimi is probably the best prospect available, but I wouldn't be surprised if Mike Pouncey was in the mix if Miami passes on him.
20. Tampa Bay Buccaneers:
Adrian Clayborn, DE Iowa
The Bucs add another piece to their formidable young D-line with Clayborn who looks like the real deal. Don't be surprised if Tampa Bay drafts Jimmy Smith though. Rhonde Barber is old and Aqib Talib is facing gun charges.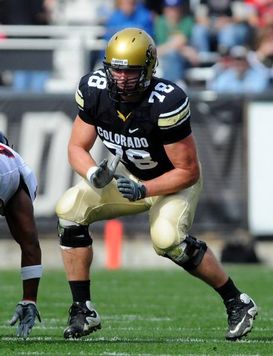 Nate Solder
21. Kansas City Chiefs:
Nate Solder, OT Colorado
I think Phil Taylor's foot injury scares Kansas City away. Instead, the Chiefs will look to bolster the offensive line.



22. Indianapolis Colts:

Danny Watkins, OT Baylor
The offensive line in Indy has been pretty suspect the past few years, but Manning has been able to cover for them. Watkins is big and versatile and will take some of the pressure off of "The Sheriff."

23. Philadelphia Eagles:
Jimmy Smith, CB Colorado
The run on the top OT's will cause the Eagles to look hard at Derek Sherrod. But Jimmy Smith will be too much of a talent to pass up. Some analysts have him as the top rated corner in this draft.

24. New Orleans Saints:
Corey Liuget, DT Illinois
The Saints need another DT to pair with Sedrick Ellis. Liuget would be a great pick up here.

25. Seattle Seahawks:
Jake Locker, QB Washington
I like Locker as a late first rounder. Wouldn't be surprised if the Vikings traded back into the first round to take him before Seattle does.

26. Baltimore Ravens:
Aaron Williams, CB Texas
A bit of a reach, but Baltimore's corners are TERRIBLE. Muhammad Wilkerson could also come off the board here.

Kyle Rudolph
27. Atlanta Falcons:
Kyle Rudolph, TE Notre Dame
Rudolph is the complete package at the tight end position. Tony Gonzalez is nearing retirement age and Atlanta really needs to add another offensive weapon.

28. New England Patriots:
Brooks Reed, DE/OLB Arizona
The Pats add another high-effort guy that fills a need. Green Bay is envious.

29. Chicago Bears:
Derek Sherrod, OT Mississippi State
Chicago has to go offensive line given how many times Jay Cutler got hit last year. But let's be honest. It's not going to stop The Claymaker.

30. New York Jets: Phil Taylor, DT Baylor
Taylor isn't as much of a risk here at 30 and with New York cutting ties with Kris Jenkins, this just makes sense. Which means it definitely won't happen.
31. Pittsburgh Steelers:
Muhammad Wilkerson, DT Temple
The Steelers D is getting old and could use some youth in the trenches. Wilkerson is a beast.
Cameron Heyward
32. Green Bay Packers:
Cameron Heyward, DE Ohio State
And now it is time for your SUPER BOWL XLV CHAMPIONS, the Green Bay Packers. We're loaded at almost every position, but there are some holes that need to be filled. Sadly, Cullen Jenkins will more than likely leave in free agency this year and with Johnny Jolly's
career suicide, it's time to draft another defensive lineman. Fortunately for our beloved Pack, this draft is chock full of 'em and Cameron Heyward is a steal here.